Lucy Hale candids
3x24 'A Dangerous Game'
Ashley Benson Style guides | 24.4.2013
3x19 'What becomes of the Broken Hearted'
3x18 'Dead to Me'
3x17 OUT OF THE FRYING PAN, INTO THE INFERNO
3x16 'Misery loves company'
3x15 'Mona Mania'
I apologize for the delay, I've been busy with college. I'll be adding Spencer guides from this episode soon.
3x14 'She's Better now'
Event guides | 9/12/2012
I'll be posting more cast outfit guides soon.
SHAY MITCHELL GUIDES
Guess who's the newest member on the fashion blogger bloc? It's Shay mitchell! The first two guides are from her blog, so do follow her on tumblr for more outfit ideas :)
GOSSIP GIRL STYLE
Gossip Girl Style is finally open!
Here you can find exact/similar matches to the outfits worn by the characters and cast of Gossip Girl. Do visit our site and keep in touch through facebook.twitter! :)
3x13 'It's a dark ride'
panel management
Mid season Sales
Just wanted to let you guys know that mid season sales have started, so shop away!
Promotional shoot
To see all the Rebecca Minkoff bags featured on the show, check out this album :)
Dress for Less
Don't forget to check out our facebook album 'Dress for Less' for cheap alternatives to the Liar's clothing and accessories :)
Lucy Hale guides | 12th September 2012
You guys can now view our site in the language of your choice. Simply click on 'Select Language' in our side bar under 'Visitor'. If you have any more suggestions for the betterment of our site, feel free to let us know. Leave a comment in the cbox :)
Ashley Benson Guides
Ashley has kicked off her promotional tour for 'Spring breakers' and as such, we'll be seeing an array of beautiful clothes. Of all looks she's worn so far, I'm absolutely in love with her sultry blue Alberta Ferretti gown. Which of her promotional looks so far is your favorite?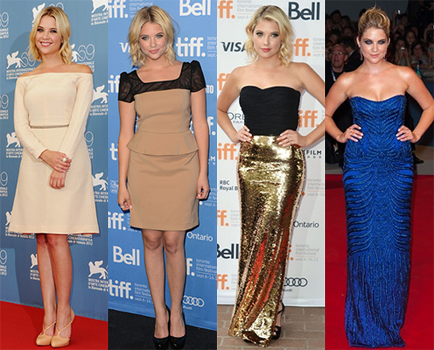 survey solutions
Big Update
Facebook
We will be putting up albums such as 'Dress for Less', 'Who wore it better?' and 'Love or hate?' on our facebook page, so do hop over and hit like :D
3.09 'The Kahn game'
Like us on FACEBOOK to know first about updates, dress for less guides and pictures :)
3.08 'Stolen Kisses'
3.07 CRAZY
3.06 REMAINS OF A
surveys & polls
3.05 'That girl is poison'
Personal photos
Bongo Campaign
Birds of a feather
Lucy Hale guides
Guides from 'Birds of a feather' will be put up as soon as screen captures from the episode are available online. If you'd like to know where an outfit was from, leave a message in the chat box in the sidebar.